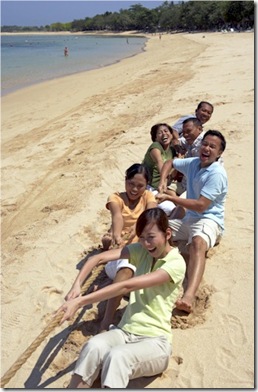 When I first started working for the big corporation of Microsoft many years ago, one of my sales guys proposed that we do some corporate hospitality with some of our customers. When I asked him what he proposed, he suggested the classic big sporting event packages that many hospitality companies provide – Wimbledon, rugby, Henley. Sounded interesting, so I asked the price. The answer came back of '£800' per person. My response exclaimed in shock, "I could take these guys to the Maldives for week for that kind of money!! [I had just priced my latest trip there.] I think they would have a bit more memorable time than a catered chicken lunch and some strawberries and cream." That incident led to me becoming a bit of a pioneer with innovative and inspired hospitality and team building. I was always looking for truly unique activities and venues.
Now it looks like taking your team or customers to the Maldives is not that far fetched an idea. In fact, a number of resorts have geared up a bit for the corporate segment. But Sheraton Full Moon's programme really stands out for the degree of forethought and attention they have given this area. They have crafted a range of offering that offers a wide assortment of classic activities for a team building session…
Introductory Games – name games, ice breakers

Fun Olympics – water bucket relay, obstacle course, ball games, canoe, tug-of-war

Trust Games – blind obstacles

Tournaments – tennis, ping pong, billards, beach volleyball

Karaoke
Talking with their Senior Sales Manager Mohamed Nuaas, Sheraton has really developed a sophisticated understanding of what makes these events productive and successful. Combined with an extensive 5-star infrastructure Sheraton Full Moon appears ready to cater to any corporate quirk or whim which is critical to get such an important (and costly) event just right.
Sheraton has run a number of these programmes now and their experience is valuable. It means that not only do they have the concepts and infrastructure (meeting rooms, audio-visual), but they also have staff knowledgeable in this facilitation. Sometimes team building companies in the UK will charge so much for the organisation and facilitation of a team building event that the cost does become comparable to sending everyone to the Maldives.