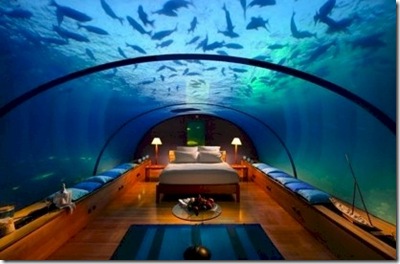 Many Maldives bedrooms have some distinctive views and the water bungalows certainly give you that up close view of the aquarium-like ocean around. But if you want more up close and more aquarium and more 'surround' than 'around', then the big news out of the Maldives this month is the introduction of Conrad Maldives Rangali's 'underwater bedroom' experience.
Rangali has taken what was one of the all-time best 'Best Of' features (and the very first featured on Maldives Complete), the Ithaa underwater restaurant, and extends the use of this great space during the graveyard shift by transforming it into a bedroom.
Luxury Insider reports that "After a champagne dinner, what is normally the 12-seat restaurant will be rearranged into a double bedroom while breakfast will be served in bed."
Gives a more inspiring connotation to the colloquialism 'sleeping with the fishes'.