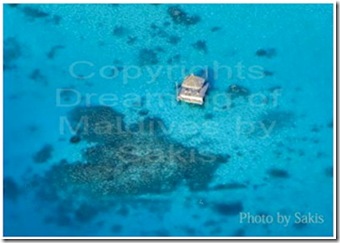 (Photo included with permission from Sakis)
Dreaming of Maldives, another of Sakis creations both inspired another 'Best of' selection as well as a bit of a treasure hunt to figure out exactly where it was (see the comments section on his site).
Many resorts offer some exclusive pavilion for a special or romantic meal. Of course, for that ultimate in secluded romance there is the off shore, on a sand-spit BBQ that some resorts can arrange for you as a special excursion. But if you want that off shore remoteness with the comfort and solidity of your own little pavilion, then you need to go to Taj Exotica.
Sally Rushbrooke reviews…
"If you want your Maldives holiday to be particularly romantic, you can arrange a meal for two at the Ocean Pavilion. The Pavilion is a stand alone wooden deck in the middle of the Indian Ocean and located a mile off shore. The deck is only reachable by boat and if you decide that you want to treat a loved one to this experience, then staff will sail you to the venue by boat and leave you with a mobile phone, so that you can call them when you wish to be collected. Due to the location, all the food served is chilled lobster, caviar and chilled champagne all feature on the set menu. The Pavilion is decorated with comfortable cushions, candles, lanterns and flowers which all serve to make the venue that little more romantic."
If you can believe it, you can go to the Google Map on the Taj Exotica profile and see it for yourself.