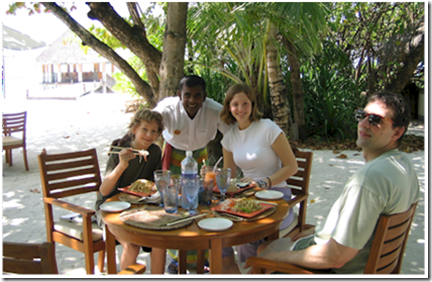 Many of the resorts hold special 'beach dinners' which sometimes are just part of the normal agenda and sometimes incur a supplement charge. Do not miss these. Not only is there usually a distinctive buffet of locally caught seafood and local dishes (or whatever the theme is), but also the pleasure of eating by candle-light with your bare feet in the warm sand and the ocean gently lapping the shore a few feet away is one of the most idyllic dining experiences.
But you don't have to wait until 'beach buffet' night. Most of the restaurants are right beside the beach, but often their tables are under an enclosure. Often the enclosure is not much more than a thatched roof. We always ask if we can have our table moved from the electric light lit enclosed area onto the beach itself closer to the water and under the countless stars. Sometimes the wait staff get a little thrown off balance by the request, but in general the people there are so service oriented, so relaxed and friendly, they are willing to accommodate. It is a small adjustment that transforms each evening's dinner from delightful to divine.
(The picture above is our family at the Coco Palm beach restaurant nestled in the palm trees during the day to protect against the sun, but where we moved our tables out to the water's edge in the background at night).