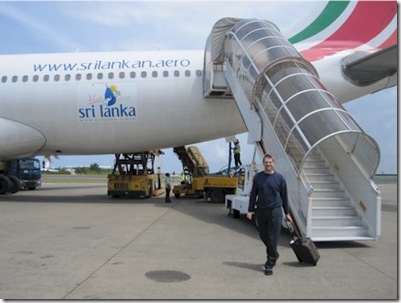 We're back! We always make a point of going to a new island each visit. It keeps a sense of exotic adventure and discovery alive even though we have now been to 8 resort islands. We've just arrived for what promises to be adventure on steroids. 8 islands in 7 days. Now that the kids have grown up, we have more mobility. Most importantly, it provides a huge opportunity to scour new treasures and gems for MaldivesComplete.
The adventure started with our flights today on Sri Lankan Airlines (flight UL 502). As noted in our trip last year, we have always bought 'package' with the flight included. But last year's 'DIY' trip planning worked really well. So well that you would wonder why we flew Sri Lankan Airlines instead of BA. BA did a great job last year and I have my frequent flyer miles with them, so why the switch?
Convenience – My wife Lori had fixed dates that she could accompany me that could not move. Sri Lankan had more choices of direct flights and two of those flights fit our needed perfectly. In fact, schedule constraints is the primary reason to book yourself rather than opting for a tour package since the packages typically have very fixed dates.
Cost – Sri Lankan Airlines was about £100 cheaper than BA and about £200 cheaper than Emirates (the other direct carrier who also happened to have fewer flight options).
Curiosity – I have been flying the UK national carrier for the past two decades since we arrived in the UK and I was curious about the service and approach that the local national carrier performed and approached the route.
The flight was fine. Pretty conventional amenities. The in-seat entertainment system was modest, but at least there was one. The service was especially cheerful and the colourful uniforms of the flight attendants helped set the tone for a trip to paradise.
Halloween Treat – On a 10 hour long haul flight, the first concern is seat comfort. I immediately noticed that touch extra leg room (32" versus BA's 31") as well as the surprisingly helpful extra seat width. Then I also quickly noticed the 'SICMA seats and lumbar-support' tucking into the small of my back. Along with a neck pillow, this support made it the easiest flight to sleep in the sitting position that I have ever experienced.
Halloween Trick – I had bought the ticket on the Internet and like many places was supposed to present the card that I bought the ticket with to the check-in desk. The only thing is that last week we lost one of our Mastcard cards and had to have it replaced (and new number issued). As a result, when I showed up with the replacement card to the check-in, Sir Lankan Airlines made me reissue the ticket on the card at an extra cost of £30. Lesson – If you have to have a new card, still keep the old card if you need to present it in order to check-in to an online purchased flight.
Tip – Get left side of plane window seat (not over wing) going to Maldives and right side departing. This way you are positioned best for one of the most spectacular aerial views as you first hit the archipelago (see below).