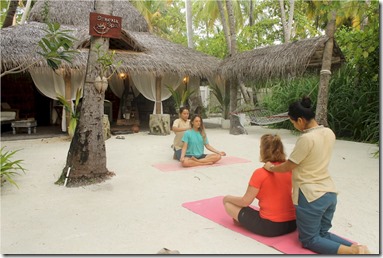 I always have thought that the best part of yoga was "Savasana" (ie. "Corpse Pose"). Completely relaxing at the end of a hard session with the aroma of some essential oil. That was until I did a session at Thudufushi.
Lori and I did a session there (offered daily for free). Lori has gotten me into doing yoga in a private session each week. I've always preferred "lazy yoga", aka Thai Massage, where the focus of the treatment is on muscle stretching (in a variety of contorted moves), but you just lie back and relax. My joints have always been a bit tight with all my weight training for sports and now getting older. But Lori insists I practice the yoga because she "doesn't want to be putting my shoes and socks on for me in my old(er) age".
Thudufushi holds their yoga sessions right outside their Serena Spa. And at the end of each session, the therapists come out and provide a final, soothing bit of stretching and massaging. Above, spa therapists Nantin and Narcy are working on Lori and Claudia Galeazzi , our yoga instructor.
Namazzzzzste!