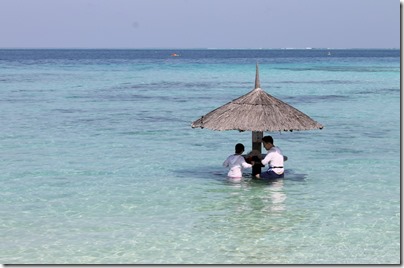 I love Maldives lagoons. The whole magic of the Maldives centers around its unique shallow and calm waters. In my "Haven't Seen" series, a recurring theme is resorts not doing enough "in water". A few resorts are starting to move tables into the shallows for some wet-piggy-toes dining, but Centara Ras Fushi has made a bolder move with a thatched-parasol table set permanently in its lagoon.
You can even pre-book the table for your lunch at no extra charge (the seafood platter is appropriately the most popular). Mind you, you do need to think about the tide timings (see below).
I have now added the "In Ocean" category tag for all of the examples of exploiting this unique resource.