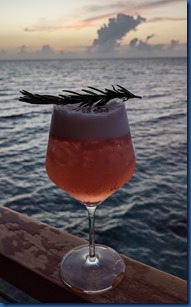 We've long joked in our family about the "medicinal" benefits of various alcoholic beverages, but Amilla Maldives has seriously concocted a range of "wellness cocktails" that let people enjoy drinking well. The example above is their "Orange Sky" (Hendricks gin, fresh orange, orange shrub, honey, lime, and egg white):
"We integrate wellness into all of our menus while ensuring the flavour and fun remains. Many of our cocktails are made using Homemade@Amilla ingredients including our range of kombucha and other probiotic drinks, bitter, infused spirits and shrubs (drinking vinegars)."
Here's to your health!