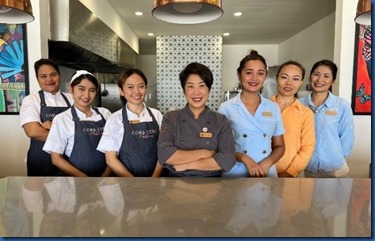 Cora Cora has turned the dining tables on the testosterone balance in the kitchen with Maldives' only all-female staffed restaurant:
"Ginger Moon at Cora Cora Maldives provided a platform for Chef May to showcase her culinary abilities and following this, she sought to create an all-female team, the result is delicious Asian food, made with love and passion that soothes the soul…Chef May is empathetic and compassionate and…[is]changing the way the Maldivian hospitality industry operates. Male-dominated kitchens can be intimidating and aggressive, however, Ginger Moon operates in a calm and measured manner, and this creates a wonderfully positive environment to work in. 'Cora Cora Maldives is leading the way for female chefs and women in the Maldivian hospitality overall, they are creating equality in what is traditionally considered a male-dominated sector. It is so exciting and rewarding to oversee an all-female restaurant team and I do hope other resorts follow in the footsteps of Cora Cora Maldives to create opportunities for women.' Enthuses Chef May."
We can speak from experience, the delightful experience of dining at Ginger Moon ourselves, that the result in terms of the service, ambience and cuisine is exquisite.