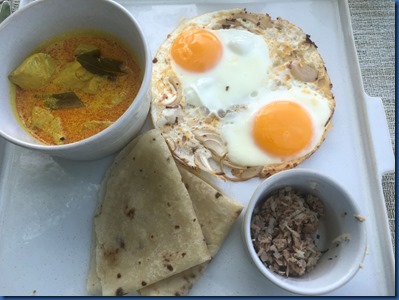 Amilla not only sends you off to dreamland in style, but welcomes you back to the land of your dreams with equal distinction. In particular, it has completed mastered the "Indian Ocean" breakfast vittles'.
The heart here is Maldivian Mashuni. A light pancake, fresh tuna, chillies and coconut morning delicacy of the Maldives. Lori is a particular afficionado and has it at every resort that serves it (which is pretty much every resort). She declared that Amilla's was definitely up there as one of the top execution.
Then, we move to another breakfast buffet standard – the breakfast curry. In most places, I've tried this dish out of curiosity and I do like a curry, but in more cases they just seem like re-heated leftovers from the previous dinner layout. Amilla's version is light, fresh rendition which really suits the early hour and was especially tasty.
And to complete the Laccadive trifecta, they also serve a Sri Lankan Pani Pol Egg Hopper. A charmingly local (well, nearby) variation on the your morning eggs.