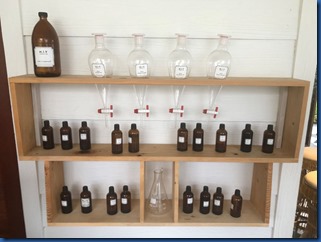 Instagram can save the sights and sounds of your trip to paradise, but how to do preserve the scents? The tropical flowers, the salty sea air, the crisp coral sands. I asked that question with my #26 of installment #5 of "Haven't Seen Yet", but thanks to SAii Lagoon "M.I.Y" (ie. "Mix It Yourself") bar, I can finally tick that one off.
The M.I.Y. boutique lets you prepare a customised bouquet from their extensive array of aroma's in the "Aroma Lab". "M.I.Y." is also a reverse acronym for "Yim" Thai word "Yim", meaning "to smile". So, the Aroma Lab motto is, "Make a scent that makes you smile."
The process includes product testing to ensure your skin's suitability and affinity with the customised formula. You can wear the final olfactory cocktail directly or have it added to you shampoo and soap in your room as well throughout your stay. Finally, each formula is kept for when you return to SAii Lagoon.
Makes scents to me!