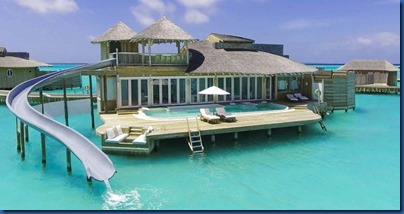 By far the highest engagement post of Maldives Complete is the post "How to Pick the Perfect Maldives Resort" (200+ comments and new ones coming in every day). But now the destination landscape has changed so people are looking as much for the perfect "villa" as the perfect "resort". It used to be that the resort choice drove most of the variation in experience. The few room categories on offer simply provided some modest variations in size and location of your room. Most of the amenities (eg. pool) were shared across the property. Today, resorts typically offer over a dozen different room/villa categories with massive variations in size, amenities, and of course budget.
Like the Maldives Complete "Resort Finder", the companion "Room Finder" was developed to filter a short list down from an even more overwhelming number of room types to choose from – 1,137 Room types versus 164 (active) Resorts. Below is a guide to the top considerations and what to take into account when considering them:
BUDGET!! – As with the "Perfect Resort" piece, the very first question is your budget. Choosing a general star-category (eg. 4-star, 5-star) no longer narrows down the expected expenditure. The top of range villa can be many times the price of the entry-level one. The majority of resorts, even some 4-star ones, seem to offer a blockbuster "Presidential" villa which is many times the cost (and size) of their standard lodging.
ISLAND – While the villa is the focus, you still have to consider your surroundings and ask yourself the other questions about the "Perfect Resort" (eg. size, house reef, public facilities).
LOCATION – Location, location, location. For resorts themselves, that question is usually about transferring and distance to Male. With villa types, that question refers to a spectrum of possibilities essentially stack-ranked by proximity to the ocean:

Water Villa (Middle of the Ocean) – Completely detached from the home island (with a shuttle boat service).
Water Villa (Jetty) – In the middle of the water with jetty to the island.
Water Villa (Water's Edge) – Sometimes referred to as a "Lagoon Villa" or some other slightly different level. The front of the villa rests over very shallow water with the rear of it pretty much over land.
Beach Villa – On the island typically within a few dozen metres of the water's edge.
Garden Villa – Typically tucked deeper in the island often without even a view of the water.

PRIVATE POOL– When I first started my Maldives Complete research 20+ ago, a main focus was to identify which resorts had a pool for our kids to play and it's #7 on the "Perfect Resort" check list. Now, the majority of 5-star resorts (and 5-star properties are the majority of resorts) feature your own private pool with your villa. Even these have a bit of a sliding scale with the most luxurious at the top:

Luxury Pool – Some pools have special feature like glass sides or slides.
Swimming Pool – The standard in this consideration of something that you can more than immerse yourself in, but even move or play around in (maybe even swim laps).
Plunge Pool – Too shallow to swim, but plenty big enough to immerse yourself for a refreshing dip.
Jacuzzi – Some villas feature a jacuzzi which does allow you to immerse yourself, but the inability to move around much is compensated to some degree by soothing bubbles.

SUNRISE/SUNSET– The

last I checked

, a sunset view is going to cost you on average $200 per sunset. I'm happy watching the sunset at the bar with a fresh cocktail in my hand, but enough people must value watching it in the privacy of their villa. If this matters to you, it will affect your price. This variable is not (yet) in the Room Finder as the majority of resorts don't make this distinction, but it is something you might want to consider in your final choice. Either in looking at the published room categories or, if not a distinct category by the resort, submitting a preference when you book.

SIZE– Both in number of bed rooms and in square footage. Not a big deal to me, but if it matters to you, it is something that is easily filtered on the Room Finder.
FAMILY– Minimum age. For Resort's, it something people seek. For Room's it's something people need to avoid (if you have children that age).
The Room Finder also allows you to filter on "Glass Floor", but primarily because that it relatively easy data to get a hold of, but frankly sure aesthetic touches are not something I would recommend using to guide your choice.
There are actually dozens of amenities and features that vary by resort and room (eg. hair dryers, bidets, safe, kettle, deck chair). I've never felt these were serious determinants of where to stay so I haven't done the work to put them in the database, but if you are interested in such details (maybe to split hairs on a toss up choice between options), I recommend Mondo Maldives whose website does a thorough job of tracking this information.