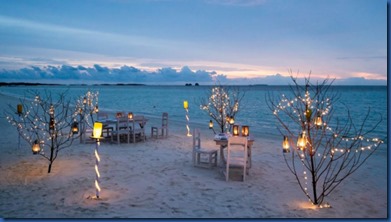 Guess Who's Cooking for Dinner. Sometimes you never know who will turn up. Soneva Jani is taking the "Chef's Surprise" to a new level where the chef themselves are part of the surprise:
The new dining experience has a secret menu concept, where the diners won't know which chef is cooking or what cuisine they will be preparing until just before the meal. The kitchen is housed within the walls of a Bedouin tent…the lineup of Soneva chefs will include: Chef Kat (Thai cuisine), Chef Sun (Asian cuisine) and Chef Ansari (Indian thali) from Soneva Jani; Chef Sobah (Maldivian cuisine) from Soneva Fushi; and Chef Benz (Thai cuisine) from Soneva Kiri."
The price per person varies based on the particular menu of the day, starting at $175 for Soneva's chefs and $350 for a degustation menu by a visiting international chef. "Guess Who's Cooking" is only available two to three nights a week, seating just 16 diners. Dinner is served from 7:30-10:30pm, while a sunset cocktail experience is offered from 6:30-7:30pm. There will also be the occasional lunch pop-up from 12:30-3pm.
International main of mystery.