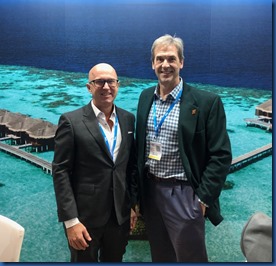 This year's World Travel Market was like a trip back to where it all began. In more ways than one.
First, I bumped into to one of the charter members of the Maldives GM Hall of Fame (figure of speech) – Jason Kruse. After I had developed Maldives Complete as a way to play around with new web technology at Microsoft and to share my trove of Maldives resort information, it was our family trip to Jason's resort (just before he arrived), Kurumba, that convinced me that I should invest a bit extra in this undertaking. Throughout our stay, various Maldivian staff came up to me and said, "Hey, you're that Maldives Complete guy. We love your website."
While I had made it a policy to never re-visit a resort I had already seen (primarily because I wanted to see as many resorts as possible), Jason convinced me to stop by Kurumba again during one of our first tours in 2011. He and his wife were so much fun and so helpful with information about the Maldives, that we subsequently made an exception to our steadfast rule and ended up visiting Kurumba every year as a part of our tours. It was a convenient final stop near the airport, but primarily a great chance to catch up with Jason and Victoria.
Sadly, those annual catch-ups have been interrupted a couple of years ago when Jason took on a resort manager role in Fiji closer to his home in Australia. But Jason is back! He has taken on the GM role at Amilla Fushi. And he was at WTM London to get word out about some of the changes being introduced there. Sounds like some classic Jason magic and I can't wait to see what he does there.
If that long-time-no-see meeting wasn't enough, my next meeting was even more nostalgic. Every year that I have been going to WTM, I always check out whether the country of Togo, West Africa has a stand. Togo was by first stint as a travel researcher and writer. I was stationed there as an overseas correspondent in 1980! My first experience in investigating and sharing an exotic destination with the world. Togo has always been a small country and has been hit with its own challenges (like most of Africa) since the fall of the Berlin Wall (when the two superpowers stopped caring about the continent as pawns on a geopolitical chessboard and unceremoniously and disruptively upped stakes leaving discord and conflict in their wake). They haven't really had the resources to rebuild its tourism industry…until now. Strolling over to the "Africa" section, I came upon Togo's first stand and had a chance to meet with their representatives (see below) from the same Tourism Ministry that hosted me to their own colourful and enchanting country four decades ago!