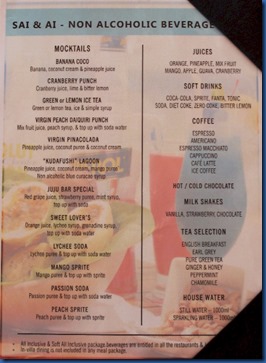 You don't want even the trip of a lifetime to cost your life savings. That is why All-Inclusive (or "AI") packages are so popular. You pay for your holiday and you know that is it. Everything is included. You can enjoy yourself and not have to worry about rocking up to the cashier's desk on the final day and being hit with a massive outstanding bill. You don't have to be thinking about every pina colada you order at the pool bar to figure out if you are still within your budget.
The problem is that AI packages themselves add a fair supplement to the price of the holiday. Especially in a location like the Maldives where alcohol is especially dear, giving guest unlimited access needs to be priced pretty high to make sure that they don't drink the property out of all its profit. Unless you *really* like to drink, or you *really* value the peace of mind factor, I always counsel people against AI because it can add so much to your bill.
As a part of Kudafushi's drive to be one of the best value 5-star resorts in the Maldives, it has introduced the have-your-cake-and-eat-it-too (all the cake you want) package of the "Soft AI". "Soft" as in "Soft Drinks" included. Kind of a "Full Board Plus". That's not just your waters (resort bottled still and sparkling) and fizzy drinks, but also a wide range of mocktails, coffees, teas, juices and even milk shakes (see bar menu above). On top of that, you are also allowed 2 beers from your mini-bar each day included in the price. And if you, are still hankering for a stiff drink but don't want to budge from your budget, then the resort holds a cocktail hour every Thursday from 6:30 – 8:00 pm which serves free drink (and canapees to boot).