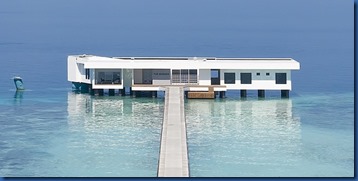 Conrad Rangali's latest show stopping "wow" feature finally introduces an underwater bedroom to the Maldives. Or should I say "re-introduces". Actually, Conrad pioneered not only the first underwater restaurant (which was actually my very first "Best of the Maldives" post that kicked off all my blogging about the Maldives over a decade ago), but also experimented with converting the underwater room into a bedroom for guests to sleep in. They discontinued it as it was too difficult to transform the room into a bedroom and back to a restaurant quickly enough to make it work. For example, the guests paying an extreme amount of money to sleep there (at the time the most expensive room in the Maldives) had to wait until later in the evening to access their room when guests had finished dining there and the resort had cleared the restaurant items and set up the bedroom.
So in my 4th "Not Yet Seen" piece I had to add "Underwater Bedroom" back to the list. But now, it can go back to the "Finally Seen" catalogue.
Conrad describes the master bedroom masterpiece as follows….
"The entire lower suite was built on land in Singapore, fittingly made of acrylic from Japan's premiere aquarium manufacturer Nippura Co., and sealed with Shin Etsu Marine sealant, which was used in the construction of Ithaa Undersea Restaurant. Then the 600-ton structure was hoisted by crane onto a specialized ship that could transport it to the Maldives and moor near the reef without damaging it. It was then submerged into the ocean and held firmly in place by 10 concrete piles that ensure it will not move or shift due to a high tide or rough seas."