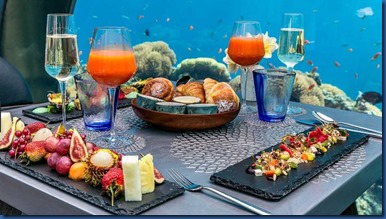 Quite possibly the most luxurious breakfast in the world. One of the most extraordinary dining experiences in the world for starters. But to have the Hurawalhi 5.8 restaurant all to yourself as the sunshine starts to stir the underwater life must certainly be hard to be beat for breakfast. The cost is just as extravagant at $1,500, but some people pay that for a single bottle of wine.
"The breakfast itself is built around healthy staples that include fresh pressed juice, assorted pastries and exotic cut fruits, with Executive Chef Warren Moore stepping up the game with creative dishes such as quinoa breakfast salad with fluid gels, mango, beetroot and pea finished with edamame beans, carrot and wild berries, while the seafood trilogy platter boasts oysters, beluga caviar, smoked salmon and cream cheese, and the absolutely amazing truffle omelette with saffron and activated charcoal served with sautéed stuffed mushrooms in a mushroom sand saffron truffle jus. Fun fact: the omelette takes a whopping three hours to make!"
We always did our family snorkels first thing in the morning. The water was clearest (before the warming air started to stir it and the water a bit). But at Hurawalhi, you can have your underwater adventure WITH your breakfast.