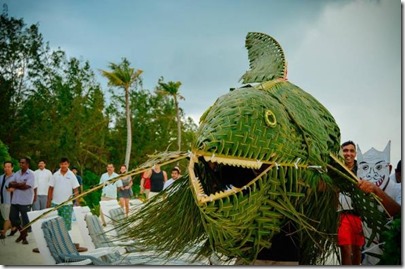 Eid ul Adha starts today. For non-Muslims you may have thought that "Eid" had already passed. Well, Eid ul Fitr which marks the end of Ramadan did take place in June. It often gets a high profile due to its association with Ramadan, but to many Islamic scholars, Eid ul Adha is actually a bigger event marking a more sacred event and calling for bigger celebrations.
A few do it bigger than Summer Island with their distinctly Maldivian celebration called "Bodu Mas"…
"Bodu Mas is a tradition a lot of local islanders have during the Eid after Hajj day. We call it Bodu Eid, this Eid is for religiously and traditionally known for celebration and we usually get a longer holiday as well. Bodu Mas is usually accompanied by Maali neshun (ie. dance by a group of people painted and dressed up as Maali – ghosts). If I am not wrong, the story goes like this – A big fish (Modu was) together with Maali (ghosts) comes out from the sea and the men and women in the island tries to catch it. They finally manage to catch it with the help of a holyman in the island, finally ending the night with dancing of the Maali. In summer island, this year, we also brought out a Koadi, the big decorated thing in the front of the parade. However, there is a completely different story this. I think traditionally in different islands, they do it differently. We did a bit of everything. At the local island they do it every year. It's a custom that has been passed on from years. There was a time that this discontinued in some islands, however, I think, with cultural and traditional awareness, more islands have started practicing these traditional rituals now. First time for Summer Island Maldives as well, and since we had many local guests staying during Eid, it was a fun event, and a great experience for tourists alike." – General Manager Mariya Shareef
Their "Koadi" is also, by a long shot, the "Best Palm Folding" in the Maldives.
Eid Mubarak!