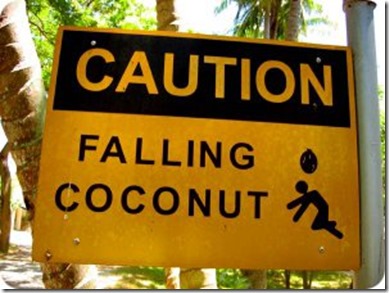 Q: What living thing is most likely to kill you in the Maldives?
A: A shark?
Q: Buzzzz! Actually, there are not recorded incidents of shark attacks at all in the Maldives.
The real answer is likely to be the innocent coconut. And today being Coconut Day is an appropriate time to investigate the treacherous hazards of the humble coconut. Exhibit A is the ABC News article "Coconuts Called Deadlier Than Sharks"…
"George Burgess, director of the International Shark Attack File at the Florida Museum of Natural History in Gainesville, Fla…pointed to recent data that suggested people were 15 times more likely to be killed by falling coconuts than by a shark. "
As it turns out, many resorts have staff who regularly harvest coconuts from the trees. I always thought that this was to get refreshing treats for the guests, but speaking to a manager this past trip I found out that their primary motivation is to reduce the risk of ripe ones falling and hitting guests.