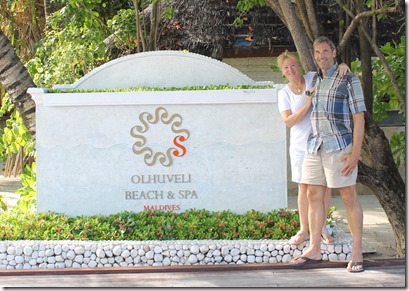 Olhuveli has it all (almost a phonetic palindrome).
A have your cake and it eat too property. A small quaint island with extensive facilities. An accessible 'steep drop-off' house reef steep as well as a vast lagoon and low tide sand banks. Extensive buffet restaurant and a la carte dining options.
The biggest win-win is the quality and choice at the affordable price. Typically, if you have a budget constraint, then you have to identify few things to do without or a few areas to downgrade a bit. Olhuveli is another 4-star resort really underselling itself with the range and quality of features and service on offer.
My reaction was curious. I am always on the hunt for "Best of the Maldives" distinctions on these research tours, and frankly, I didn't come across that many things that I hadn't seen elsewhere in the Maldives. It might not have had the quirkiest curry recipe or the most bizarre water sport, but it didn't seem to lack for anything. Including, very importantly, affordability.
Don't take my word for it. Take the word of the 200+ guests there when we stayed. Olhuveli was at 100% capacity in late July. We normally go to the Maldives in July because it is the "low season". It means that we can get the most affordable rates, but also the resort staff have more time to help me with my research for Maldives Complete. Mind you, there is really nothing 'wrong' with the end of July (more on this in my next post). It's just that it's not popular for a lot of markets. Most of the big European markets (eg. France, Germany, Nordic) tend to take August off as holiday. The British don't take many tropical holidays in mid-summer as its one of the rare times when weather at home is pretty agreeable. The timing doesn't have any particular appeal to the Chinese market. And Eid is over and done with for the Middle East market. Some of the Maldives resorts are as low as 20% occupancy this time of year and most are around 50%. 80% is the max I've tended to see. So to be filled to the brim is a real testimonial. And with 100+ rooms, it's a sizeable number of testimonials.
It's actually a bit difficult writing about Olhuveli at the moment because they are just completing a major investment programme in the resort. I got a sneak peek at some of the new villas and facilities. They look superb. Stylish bright beach villas with protected infinity pools gazing out to the ocean. And an entire second island next door being developed with higher end offerings (and joined by a jetty bridge). Don't worry about the work disrupting your peace and quiet as most of the heavy lifting is done and throughout the work, the resort has blocked off selling any rooms anywhere near work being done. So watch this space.