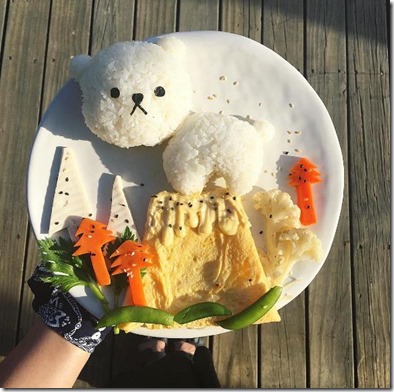 For more savoury sizzle, LUX South Ari Atoll has long been a leader in culinary creativity especially with its venti virtuosity and flapjack finesse. But it has taken its palatable palette to a whole new level (as well as to all its guests) with the hosting of international food artist Samantha Lee last week. From 7-8 December at the Umami restaurant, Lee hosted workshops to teach appetizing artisans a few tricks to her dinner table tableau.
"Learn and create whimsical, colourful yet unique meals as you witness this talented artist in action. Using only fresh and healthy ingredients, her creative approach will leave you in awe and wanting more."
The resort shared a ton of pictures on its Facebook page in the album "International Food Artist – Samantha Lee" (see a few select pix below)
While I do have the "Food Art" gourmet gallery Pinterest page, I am also now adding a "Food Art" tag to the blog as well.