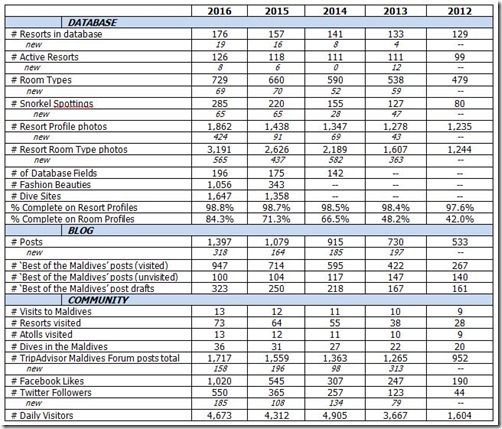 Another year for Maldives Complete! 8 in total and what a year it has been. While the traffic stays level (possibly maxed out my niche), the content has spiked up in quantity and quality more than just about any year since its launch. To underscore the leap of the year, I've segregated out the annual change for a number of the site stats in the tables above.
A few numbers that stand out…
% Complete on Resort Profiles – Completeness was blunted by lack of Dive Charts for new resorts in new atolls – Raa, Thaa and Dhaalu, but still inched closer by a sliver to just a whisker under 99%.
% Complete on Room Profiles – Good to finally get to the >80% level in this area I added a few years ago.
 # Posts – Nearly doubled this year to practically daily posting compared to recent years where the pace was more like every other day.  Resorts and website fans are sending me lots of stuff making my job a lot easier.
Resort Profile Photos – The resort pix leapt up by much more than previous years with the addition of "Arrival Jetty" and "Model" to the  profiles.
The Instagram revolution barrels along. Now by far the dominant social media platform for Maldives posts. Twitter has waned into near insignificance. Facebook is solid, but more so for personal posts than celebrity ones. Since I added the fashionista dimension, I've posted 1,025. And the fashionista database has another 1,721 in its troves. If you're curious (I was), the top fashioinistas to hit the Laccadive shores are a listed by social medium below (dominated by USA and India).
From what we can determine, polling various industry experts and Maldives aficionados, Lori and I have stayed in more Maldives resorts than any one on the planet. We certainly have snorkelled more house reefs than anyone (we make a point to snorkel every house reef, where it is possible to snorkel including some lagoons). We stay at about 10 resorts each year, but last year, the net new active resorts open has increased by 8 so we are struggling to keep up!