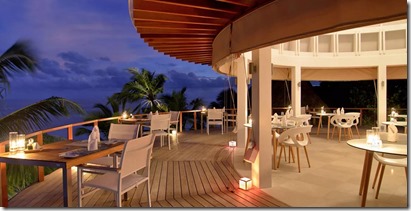 Two of my favourite things in the Maldives are the gourmet food (yes, I am a bit of a foodie) and the diminutive charm of the tiniest islands. Unfortunately, it is difficult to have this particular cake and eat it too as the small islands are limited in space and capacity to serve up as much variety.
But Kandolhu provides the best of both world – culinary and cosy delights – with the highest Restaurant to Guest Ratio in the Maldives – 4 restaurants for a mere 30 villas. In rowing (a sport I coach), we call this the "power to weight ratio" and it is the holy grail for high performance.
Each establishment is, like the island, intimate. Like the 6 person Japanese bar, Bonzai. Or you can choose Olive, Sea Grill, or The Market. All of the restaurants are situated on the same side of the island, but segregated in their own spaces and décor. For even more dining options, you can also do villa dining, private dining or grad a bite at the Vilu Bar.
Below I am enjoying the elevated vistas over the ocean of the Olive restaurant while savouring the "Crested Consomme of Oxtail" by Chef Mickaël Farina (hailing from Marseilles in France, he has his own pedigree in fluffy pastry that I just need to find a way through to get to my soup!).