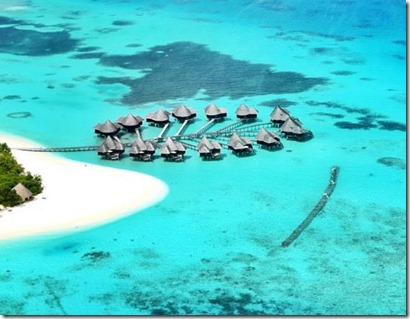 Resort islands face all sorts of new environmental challenges from COTS to rising sea temperatures taking their tolls on the coral reefs. But an endemic and ancient plague on the islands are the simple currents shifting the precious sands of their tiny plot of real estate all over the place. Of the over 100 active resorts, nearly 40 have either rock groynes (still vertically out from the beach) or sea walls (sit horizontally parallel to the beach)…or both…to limit this natural erosion. Unfortunately, these measures to keep the sand in place can keep guests away who prefer an unadulterated ocean vista.
Some resorts have gotten clever about turning adversity to advantage dressing their groynes up as everything from lounging areas to wedding pavilions. But Coco Palm Dhuni Kolhu is the first resort to address the less slightly seawalls by introducing 'turtle-friendly' submerged ones that wouldn't impair the view over the water…
"This project consists of a 'belt' of breakwater walls built in the North Eastern side of the lagoon, at a distance of 100 meters from, and parallel to the shore line. The purpose of the wall is to control the sand movements by reducing the impact of rough seas and the strong circulating currents. The first phase of the project consists of 9 walls, each of 25 meters in length and with gaps between each wall to allow the passage of turtles and fish as well as a controlled amount of currents. With Coco Palm Dhuni Kolhu being a regular green sea turtle nesting ground, these gaps are very important for them to navigate their way onto the island. The wall is built with eco-friendly coir gunny bags filled with a mixture of sand and cement ; the bags will eventually dissolve naturally, leaving the cement 'blocks' in place. We are in phase one of this project and 5 walls are now complete, with the 6th at 90% and the remaining 3 all 50% completed. We have already started observing a stable beach near our Lagoon Villas which used to be severely affected. The image above is from a stay a couple of months ago in October, and the thin line that you see near the Lagoon Villas is the breakwater wall that has progressed."
Sometimes the best resort innovations are hidden just beneath the surface.