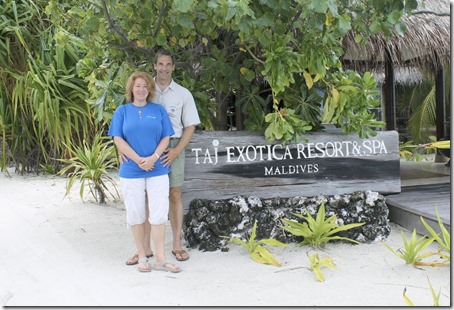 "Taj Exotica"…more like "Turquoise Extremica".
Taj Exotica is imbued with an Indian aesthetic and enveloped in an expanse of cyan shallows.
The subcontinent vibe permeates throughout the décor like the silhouette lanterns hanging from the trees. It prevails with Indian inspired best-ofs like Ayurveda treatments, and yoga courses. But iit really comes alive in its restaurants. One of the best Indian dishes I have ever eaten was the recommended Chef's Special Butter Chicken that tenderly melted in your mouth with just the right aromatic glow of piquant spices. All restaurants cater strongly to vegetarians offering a range of Jain, vegan and other alternatives to many dishes. They even serve Indian wine (Fratelli Chardonnay).
An aquamarine landscape frames the entire resort. Not just a large lagoon, but one that seems to stretch from horizon to horizon on both sides of the island. In fact, it actually covers over 200 acres in all. One of the largest lagoons in the Maldives. And Taj has built on this asset extensively. It has an unmatched array of lagoon accessories including lagoon swing and lagoon hammock, a lagoon pavilion, and a lagoon private jetty. One f the downsides to the shallow and sandy lagoons is that they are no very conducive to coral growth, but Taj has addressed this issue by investing in 206 coral frames in the past 4 years as a part of an ongoing reef generation project. And the resort provides regular boat trips to a nearby coral reef free of charge.
Taj Exotic provides a truly affordable taste of luxury for people who want to immerse themselves in the unique blue seascape of the Maldives.