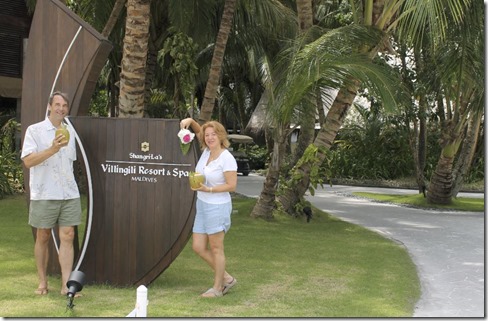 There is no reason to not come to Shangri-La Villingili.
The number one reason people give against coming to the Maldives is the myth that "There's nothing to do there." Admittedly, some of the smaller islands do have limited activities (but that is actually a draw for some people). But Villingili is a spacious island enabling it to support a rich infrastructure of activities and facilities. The spa is one of the largest in the Maldives and it sports a mini "village" of shops, services, dive centre, photo studio, etc.
The biggest activity "can't do" complaint about the Maldives is golf. Many affluent travellers are happy to go just about anywhere…as long as they can swing a club. A few golf facilities have cropped up over the years across the Maldives, but only Shangri-La sports a full 9 hole course with independent fairways. Lori and I played a round during our stay and we were thoroughly impressed. Our home in Buckinghamshire, England has no shortage of world-class golf courses and Shangri-La's is as challenging and thrilling course as any. They are short holes (maximum hole is just under 200 yards) so no opportunity to practice your 200 yard drive. But, the modern game is all about the approach shots anyway, and as the old saying goes, "drive for show, putt for dough." The greens and fairways are all as well maintained and manicured as any prime English course. Yes, you can play serious golf in the Maldives…at Shangri-La. Seriously laid out, seriously challenging, seriously beautiful surroundings and seriously fun.
Among Maldives aficionados, the big showstopper to choosing a resort is the "housereef". And no house reef is adequate without (a) a drop off, and (b) easy access. Shangri-La ticks the housereef box strongly. A special set of stairs on the northern water villas jetty provides a very simple entry (I love stairs because it is so much easier to put on your fins without getting sand in everything). Given the vagaries of maritime creatures, I am always impressed by resorts' "called shots" in the sport of snorkelling where they call out "if you go here, you are virtually guaranteed to see this…" In Villingili's case it was turtles. Several turtles are virtual residents there. And no less than 10 minutes into the water one of them came swimming up to us (see video clip below). Actually, it's not too surprising as Villingili has its own turtle nesting area (which it has marked off and protected).
Another reason people avoid straying too far from the resorts close to Male is avoiding the seaplane transfers. Seaplane schedules can be quite changeable and timings are especially vulnerable to the weather. Also, some people are bothered by flying in such a small, loud, unpressurized craft, like a seaplane. But the transfer to Gan is by domestic turbo prop planes. The schedules are fixed so you will know your logistics precisely before you set off. And they fly higher over the weather in more comfortable, pressurised planes. And for the well-heeled clientele, the Gan airport accommodates private jets and Villingili provides a special greeting service where you are picked up on the tarmac. Private jets can even fly directly to Gan and clear customs avoiding a Male transfer altogether. An increasing number of charters and commercial operators are looking to expand services here so everyone can have this direct connection convenience.
If you are thinking of an exceptional stay at Villingili, then there's nothing stopping you.