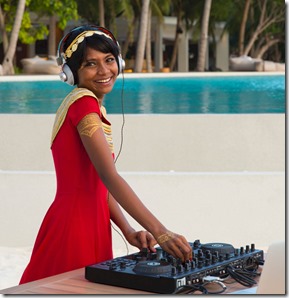 Another way to get the evening rockin' is a bit of lively (or soothing) music. Many of the resorts will offer DJs who can provide a personal touch to the playlist. They often read the crowd and adapt the music they play based on how people are responding and the vibe. One of the top DJs in the Maldives is Aminath Fazleena Abbas. While some resorts jet in DJs from around the world, "Angie" (as she has been classed since a young age) hails from her hometown of Male. She might just be the top female DJ in the Maldives (DJing has been a bit of a male dominated domain as only 2 of DJ Mag's Top 100 DJ acts are women. And curiously, both acts are duos). Maldives Complete caught up with Angie for an exclusive interview into the world of bopping in paradise….
1. How did you get interested in DJing?
I have always had interest in music and dancing, during my studies abroad i used to watch a lot of DJs perform and get fascinated by how they controlled the crowd through music. The thought crossed my mind through observation i would say.
2. What was your first gig?
My first gig was held in Kuda Bandos island for a crowd of around 200 people.
3. Where was your first resort gig?
Dusit Thani Resort for New year 2013
4. What was your biggest gig?
'Cupid' event held in Buba Restaurant and beach club Sri Lanka for a crowd of 2500.
5. What advice would you give to other Maldivians interested in DJing?
If you have passion for DJing, Learn, Practice and work towards it.. With effort you can yield big results in any walk of life.
6. What's the hardest part about a DJ gig?
Interruptions during performance and trying to please crowd of various tastes.
7. Which big name DJs do you admire?
Chemical brothers, Nina kraviz, four tet..
8. What other resorts have you performed at?
Velaa, Taj Exotica, Anantara Digu, Anantara Naladu, Amilla Fushi, Como Maalifushi, One and only Reethi Rah, Soneva Fushi, Sun Island, Cinnamon Dhonveli , Fihalhohi , Cinammon Hakuraa
8. Do the resorts differ in terms of what sort of music/performance they are looking for?
There is just a handful of resort where i could play genres i want. Usually resort either prefers commercial dance music or chill-out, deep house genres. I have noticed that most high end resorts prefer the latter.
9. What is your personal favourite dance song?
Challenging question as there are too many songs i love.. These are few I am into these days:
Daniel Portman – The reason

Peniciline – Alberto Feria alvaro

Droplex – Dance
10. What is your go-to song to get people dancing?
Deorro, TJR, Bassjackers
11. What are your 3 most requested songs?
Commercial dance music artists like Pitbull, Rhanna, Nicki Minaj
12. What are your 3 favourite romantic songs (for those honeymooners)?
Disclosure by Latch

Praise You by Fatboy Slim (Maribou remix)

Stolen Dance by Milky Chance.
13. What are your 3 favourite "chill out" songs (reflecting the soothing vibe of the Maldives)?
Bungalow by Boy Tedson

65 percent by Kaya Project

Stuck in a dream by Soulavenue