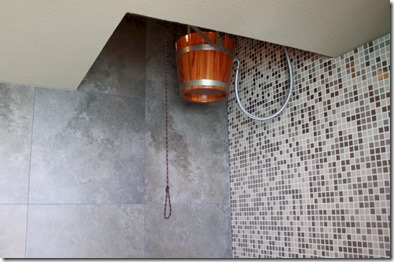 สวัสดีปีใหม่
Happy Thai New Year! The Thai celebrations include a number of traditions typical in many cultures ringing in the calendar milestone – feasting, visiting families. One ritual distinctive to "Songkran" is cleansing. A bit reminiscent of the new beginnings and fresh starts embodied in New Year's Resolutions. People go to Buddhist temples to wash away their sins and bad luck. The custom has grown quite lively with a now iconic water festival where people splash each other with water.
If you want to wash away your sins and bad luck, the best place in the Maldives is Velaa's My Blend Spa by Clarins. This indulgent facility includes a number of innovative features from its snow room to its "cloud pod" to its steam room-with-a-view. But one of my favourites was the "Soaking 4 Ways" (my term). Quattro Fradicio.
In a single room, they offer 4 different soaks…
Rain Shower
Waterfall Shower
Hand-held Shower
Bucket (!) – see above
The "Bucket" seems to be the ultimate in drenching. Possibly the culmination of an ever intensifying trend. First there were "normal" showers. You turned them on…water came out. Then came the power showers and massage showers which pushed that spray a bit more firmly. Then, came the soaking "rain" showers. With twice as many and larger outlet holes, the water poured down on you sumptuously. The next obvious step was the "Waterfall" showers where the flow-impeding holes were done away with entirely. Now the "Bucket just drops the entire dose of water on you instantaneously.