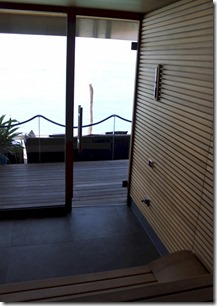 If you are into steamy views, then Velaa's spa is the just the vista (though the guy in the official picture below seems to be enjoying more of yesterday's kind of view than the outside beauty of the Maldives)…
Most spa amenities like the steam rooms and saunas are tucked away in the back recesses of the facility. I guess the conventional thinking goes that people want privacy and the focus of the room is enclosing heat. As a result, the more closed off, then the easier to pull off. I have to admit, that a sauna and steam can get a bit tedious. Yes, I realise that I could just enjoy the sensually soothing heat, but I still find staring at four walls a bit tiresome.
Velaa's spa is one of the most inspired that I have been to in the world never mind just the Maldives (which is, admittedly, turning into a bit of a global spa smorgasbord). I've already featured its beachside blizzard "Snow Room" and "Spa Pod", and my recent visit turned up several more distinctions like this post.  You don't have to sacrifice enjoying views of the Maldive water as you can sit with in the steam room gazing out at the sun drenched, azure-dappled sea.
Today is just the day to highlight Velaa's spa. Because today IS the "future". Well, "Back to the Future Day". The long anticipated "Back to the Future" day that Marty McFly travels to in his DeLorean. And, Velaa is the DeLorean of Maldives resorts with its sleek, edgy, innovative design. Furthermore, it is arguably the most futuristic of the Maldives resorts with its space-age "Spa Pod" and its alien-spaceship-like Tower (another inspired vista). And, like Velaa's stylish guests to its steam room, the car arrives and departs in a cloud.