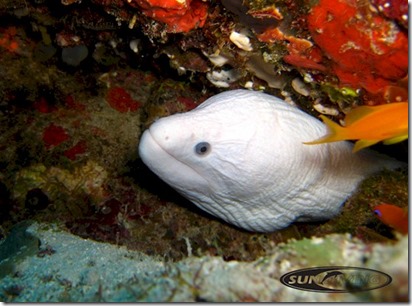 Today's creature feature was brought to our attention during our visit to JA Manafaru and stopping by the Sun Diving centre there. They were exceptionally helpful orienting me to the dive sites in the surrounding Haa Alifu atoll and helping to fill out the dive site database with info and material.
The dive centre manage alerted us to many wonderful sites (as well as the scourge of Crown of Thorn Starfish hitting many Haa Alifu reefs), but none so colourful as the colourless Albino Moray at Kurolhi Thila. You will have to be a bit of a mini-Ahab to spot this white wonder as it moves around a bit, but it is regularly spotted (that is, seen not complexion). But it never moves from the thila and has been seen there for years.
Today's feature was inspired by the second consecutive "Bad Pun Monday" (and, in fact, prompting me to add a new Category tag "Bad Puns").
Wait for it…