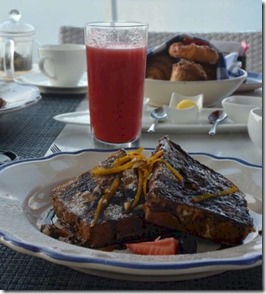 Who put the "French" in French toast?
I'm always surprised there is not more brioche served in the Maldives at the high end resorts. It is a truly elegant bread. A staple with the delicacy of foie gras. And often the way the trendy London gourmet burger bistros decadently dress up their ground beef in order to charge $30 for it.
Or for breakfast – well, any time really, slathered with Nutella. Four Seasons Landaa Giraavaru's breakfast features a brioche French toast garnished with candied orange peel. More "Pain Doré" than "Pain Perdu" (Both are the French words for "French Toast – I guess they don't call it "Our Toast". "Pain Doré" translates to "Golden Bread" while "Pain Perdu", the more prevalent name, means "Lost Bread" referring the dishes ability to resurrect old or stale bread). Maybe just a little dollop of Nutella…
A bit of research found that Gili Lankanfushi also serves brioche French toast, but I will give this nosh nod to Landaa for their mouth watering treat tweet.