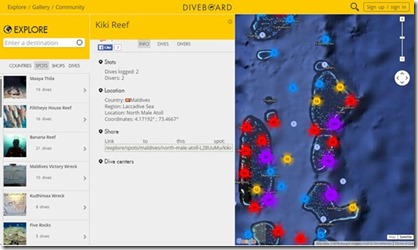 Another site making use of Google's array of online mapping tools is the Dive Board website. It calls itself the "the largest online logbook" providing a database of dive sites around the world. Users can register and log their own dives on the website. Each dive site has a short profile including such information as Dives logged, Longitude and Latitude, and pictures.
But the real power of the site is how is has integrated with Google Maps complete with drill down functionality. At a "high" level, you can scan an entire atoll and it will show you some markers for individual dive sites. But in areas with lots of diving, it will have a coloured circle and a number both indicated the number of dive sites in that sub-area. If you then zoom in, the map will display further discrete dive sites, or even more circles indicating where you need to drill down further in order to distinguish the sites' specific location. I love the elegance of this solution. You get high level scan-ability as well as drill-down detail. This capability was one of the great benefits of the Microsoft Deep Zoom technology that I exploited for the British Admiralty Maps (unfortunately, the Deep Zoom control only works in Internet Explorer now that Chrome has dropped support for Silverlight technology).
I appreciate the importance of drilling down in making the Maldives Complete Dive Site database. That part of Maldives Complete also works with a basic amount of drill down. There is a top level overview of all the Maldives allowing a user to choose their atoll (most people stay within a certain atoll when visiting a diving. The Atoll view which shows all of the sites in an atoll. You can squeeze them into a PC screen-sized map half the time, but the other half, denser sections of the atoll require a sub-area drill-down map.