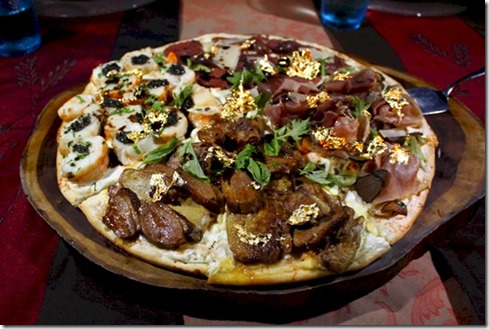 Friday night is pizza night (and a tub of Haagen Dazs). And a pizza that just sizzles with Seth Godin's "remarkability" factor is Taj Exotica's "$200 pizza"…
"Inspired by the thousand dollar New York Pizza, Chef Kermani came up with the brilliant idea of the two hundred dollar pizza, which became a famous sensation within the whole Taj Exotica culinary experience. This pizza has captured the hearts of so many guests; people have blogged, photographed and written about it. This four quarters, fifteen inches pizza is filled with the best ingredients hand picked from around the world. The base of this pizza is completely covered with Philadelphia cream cheese with one quarter topped only with waygu beef carpaccio and kalamata olives. Second quarter of the pizza is topped with roasted French duck and Foie Gras with Italian truffles. Another quarter is topped with Italian Porchinis, white parma ham, completely covered with parmesan cheese. The last quarter of the pizza is topped with jumbo lobster medallions with Iranian caviar topped with a finishing touch of 24-karat edible gold leaves. This pizza is served personally by the executive chef, Kermani, sprinkled with thirty years old balsamic, trickled right in front of the guest. This is followed by two glasses of champagne and a photograph with the chef. This photograph is gifted to the guests upon their departure as a part of the memorable two hundred dollar pizza experience."
In Godin's "Purple Cow", he describes how "remarkability" is literally the ability to get people to "remark" about your product. The way you would 'remark' to your friends if you passed a purple cow in the field, "Guess what I saw?…"
In the ever escalating arms-race of the super deluxe Maldives resorts, I often challenge them to ask themselves, "What is the story that your guest is going to tell on the golf course or at the Mah Jong table?" It won't be the pina coladas, sunsets or palm trees. For the multi-millionaire set, these things are rather pedestrian. The "$200 Pizza" does pass that test though. I don't care how rich you are, not many folks have had a "$200 Pizza". It is a form of metonymy where a small part of the luxurious experience encapsulates the lavish extravagance of the whole holiday. And in this age of Instagram, where unless you take a picture of it and post then it didn't happen, bling pizza is ideal Instagram fodder.
The pizza also provides a good illustration in "impact" gift giving.  The price of a gift is governed by two variables – 1. the general expense of the item, and 2. how high is quality of the version you got.  If you want to give a great gift, focus on #2….
Determine your budget

Divide by 10

Identify items that generally cost that amount (the one-tenth)

Find a version of the item that costs 10x the norm
The pizza is great example.  A typical pizza costs around $20 in many places in the world.  So the $200 Pizza is a 10x (order of magnitude) more expensive version.  Another good example is a Christmas gift Lori got me.  I needed collar stays (the little pieces that you put in nice shirts to stiffen the collars).  I like nice shirts and so Lori got special collar stays.  The regular brass ones normally sell for about $5 or so, but Lori bought me lovely silver ones with mother-of-pearl.  They cost $50 (the 10x rule).  The exceptional versions that she found made the gift special (and when I am going to special occasions, I always use them…no one can see them, but I know I'm wearing them).
The problem is that many people focus on #1.  They want to give an impressive class of item (like a watch or a TV), but then can only afford to get a crappy version to fit their budget).  No one if happy with a crappy watch, even if it is a watch.
Lori was able to get something exceptional without breaking the budget because she got a simple type of item.   Not all people can afford the $1,000 cognac and $10,000 suite, but many Maldives visitors can splash out on a $200 pizza and enjoy having a slice (yes, pun intended) of world-class extravagant luxury.
And finally, a lobster pizza in Maldives!!
Exotic(a) pizza with extra bling!