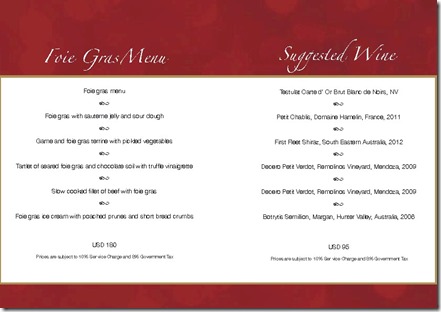 Any writer appreciates a good theme. And I've been a bit more focused on "themes" recently with the new WordPress blog platform (both for Maldives Complete and one of my other blogs, "Dynamic Work"). The "themes" specify the look and feel of the layout with a dazzling array of choices from technical experts who concoct an expansive buffet to pick from.
Dusit Thani has also assembled a collection of dinners with some of the most luxuriously delectable "themes" – Asparagas, Foie Gras, Lobster, Truffle. One of Lori's and my most memorable meals was a lobster themed menu at The House of Elliot in Ghent, Belgium. It's a great way to combine variety with consistency. I have to say that I would have been even more delighted to see "Lobster Ice Cream" as Dusit's lobster dessert instead though.
The menus also have the option for specifically suggested wines to accompany each which is a typical option for menus degustations. But the twist I love by Dusit turns the "accompaniment" notion on its head. They have a "Champagne" menu where you have a different champagne with each course and the dish is specially selected to go with the champagne! That's getting priorities right.
Asparagus
Asparagus, courgette and tarragon terrine with seared scallop
Poached asparagus and slow cooked egg with bernaise sauce
Slow roasted beef eye fillet with a warm salad of asparagus, celeriac and parsnip
Toasted Brioche with aged goats cheese and asparagus espooma
White asparagus and raspberry, rhubarb with chocolate soil
Foie Gras
Foie gras with sauterne jelly and sour dough
Game and foie gras terrine with pickled vegetables
Tartlet of seared foie gras and chocolate soil with truffle vinaigrette
Slow cooked fillet of beef with foie gras
Foie gras ice cream with poached prunes and short bread crumbs
Lobster
Lobster bisque flavoured with cognac and truffle cream
Cold lobster jelly with lobster and citrus salad beer tuile
Warm lobster tart with creamed leeks and fennel and dill salad
Lobster parfait with poached lobster tail with baby carrots braised fennel
Truffle
White bean and truffle cappuccino
Ballotine of quail stuffed with truffle mousse with salsify and truffle dressing
Spaghetti linguine tossed with fresh truffle, parmesan and olive oil
Slow cooked fillet of beef with foie gras pithivier jus borderlaise
Truffle cream brulee with raspberry sorbet