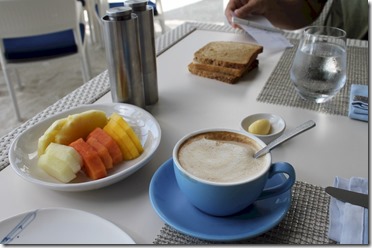 International Coffee Day today. And in the United Nations of coffee styles, Kurumba presents the most Maldivian.
When we first started coming to the Maldives in the 90s, about the only thing we missed was a good cup of coffee (or latte or cappuccino) in the morning. Fast forward a decade, and the La Spaziales have arrived and you can get any pet percolation you desire including all forms of add-ins, milk froth and strengths. And in the Maldives, the most topical tropical variation is the perfectly paradise essence of coconut. So it didn't come to much of a surprise to us that the epicentre of all things coconut in the Maldives, Kurumba, featured just such a coffee creation on its breakfast menu – the Coconut Cappuccino (see above).
A touch of cocoa and think breakfast mocha Bounty bar. Make mine a double-shot, skinny, extra Kurumba latte grande with cinnamon sprinkled on top!