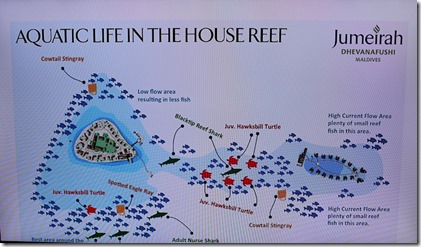 On Groundhog Day today, I hope you spot more than your shadow in the Maldives. My whole Snorkel Spotter development stemmed from wanting more help for guests to know where to focus their hunting. Before I came up with it, I always suggested that the resorts post a white board with maps of the house reef so people could mark where they had seen different things (old school "Share").
Jumeirah Dhevanafushi has come the closest to the digital sophistication of such a house reef guide. Their in-room IPTV offers a channel with an "Aquatic Life in the House Reef" guide (see above). It provides helpful tips about current as well as the creature most regularly spotted and where.
Who says there's not point to watching TV in the Maldives?