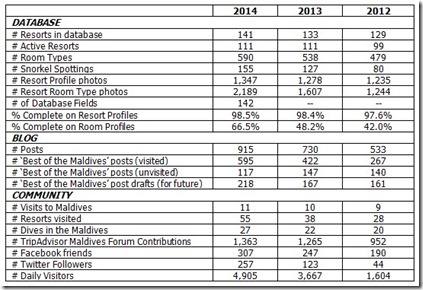 Maldives Complete's sexennial…6 years on and even more complete than ever. Well, a 0.1% more complete (from 98.4% last year to 98.5% this year). The challenge is the new resorts coming online. While I am able to track down missing material for some longer standing resorts, new resorts opening presents a whole new slate of things I need to find for a complete profile.
I am once again marking the milestone in true business review fashion with a look at a Harpers Index sampling of stats which tell its progress…
Resort Numbers – Despite a surge of newly announced resorts, the number of active resorts has stayed stable with as many resorts going out of commission for refurb as came on line.
Room Types – Big surge in .
Best of the Maldives – Resort with most Best Of's Published – One & Only Reethi Rah 30 (2013 = LUX Maldives 30). Resort with most Best Of's Drafted – Soneva Fushi 69 (2013 = One & Only Reethi Rah 55).
Visitors – The top search terms are specific names of resorts ("Kurumba" – especially "day trip to Kurumba" and "Amilla Fushi" top the list), but topical searches have once again risen to the top such as "bed decoration" and "best house reef in the Maldives".
This year has not seen any particularly significant new features or addtions to the site. I have focused on Search Engine Optimisation (SEO) for once to make it easier for people to find the website. I get lots of emails of people saying "Thank goodness I finally found your website." The money at stake for expensive Maldives holidays mean that lots of travel sites invest heavily to appear at the top of search results crowding out smaller sites like Maldives Complete with less money to spend on such techniques. I've cleaned up a few fundamentals like proper tagging and the like, but the biggest impact on ranking are inbound links. So if ay fans of the site out there want to help out, if they can arrange any links to MaldivesComplete.com, that would be the most gratefully received contribution. I've also cleaned up a few cosmetic details (cross-browser font compatibility especially on Mac browsers has been a headache).
As it happens, I have a number of exciting bigger developments in the works for 2015…
Turtle Database collaboration with MarineSavers at Four Seasons.
Dive Site Database
Snorkel Safari Treasure Hunt (!)