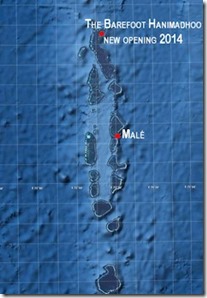 Welcome to Barefoot resort who opened this week. Barefoot is a proper resort, but located on inhabited island of Hanimadhoo. It has all of the amenities and infrastructure of a resort, with the exception of serving alcohol (a limitation on inhabited islands). But Barefoot has sorted a solution to that issue by anchoring a "Bar Boat" in the lagoon that guests can go to for their drinks.
Barefoot caters to a number of popular demands. First, it is offering rooms at increasingly hard to find value price range. Furthermore, it is designed from the outset to be "eco-friendly". Environmental credentials have been a popular consideration in recent years, but have tended to be the domain of the premium resorts.
"The Barefoot Eco Hotel is an ecological touristic structure that follows the Ecotourism principles of
uniting Sustainability and Conservation, involving Local Community within its activities…The Barefoot is located within an almost untouched forest on Hanimadhoo island in the preserved deep North of Maldives. This 4 star Eco Hotel is well connected to Male international airport by numerous daily 45 minutes flights. Due to its luxuriant vegetation and privacy everybody can fall in an untouched nature, living the genuine and natural Maldives with all modern accommodation facilities. A half mile private sandy beach and a turquoise lagoon frame the hotel."
Hanimadhoo's 6 45' latitude makes it the northernmost resort in the Maldives. Despite it being nearly a 1,000 miles north of the southern extreme Gan, the average temperate differs by less than a degree. It is completely virgin territory for Maldive resorts for people looking for untouched landscape and unexplored dive sites.