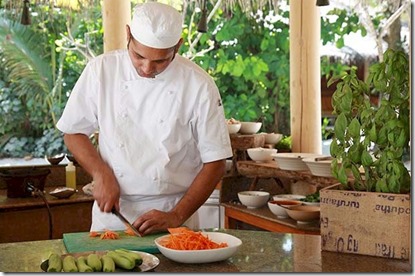 Soneva Fushi turns the buffet into a smorgasbord.
Buffets are one of the resort world's staples. They can be a simplified logistics way to cater to large numbers and diverse tastes without a massive outlay of service staff or preparation staff. As such, the focus tends to be on diversity and efficiency than gastronomic excellence. Of course, there are exceptions – Bellagio in Las Vegas, Porcao in Rio de Janeiro, Queen Mary all over the place. Soneva is one of those exceptional buffets.
No quality seems to have been spared in the sheer quantity of delectable offerings. The sushi is better than most places in London (I love the fish egg garnish and the pieces weren't dry as can be the case with many pre-prepared sushi offerings).
Part of Soneva's secret is taking the notion of a "station" to a whole new level with specialty "rooms" catering to special foods. There a cheese room, cereal/bread & pastry room and of course its infamous ice cream room.
Soneva themselves describe their culinary cornucopia…
"We aim to anticipate our guests' desires. In the words of Oscar Wilde, 'Nothing succeeds like excess.' In that spirit we have gone delightfully overboard for you at the culinary heart of our island. Mihiree Mitha means 'Here it is', and almost any dish you crave is here. The day begins with a bounty of just-baked goodies, two dozen imported cheeses, eggs any way you like, a treasure chest of homemade jams and fresh fruits… luscious mango, papaya, passion fruits. For lunch or dinner, choose from the freshest sushi and sashimi, organic salads, wood-fired pizzas, grilled fish, delectable tandoori. For a sweet finish, more than 60 homemade ice creams and sorbets await, including unexpected flavours like honeycomb and rosemary, piña colada and chocolate-lemongrass."