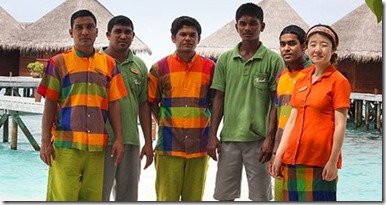 May Day! May Day! Not a call for help (unless you need service from a helpful staffer), but a call to celebrate workers and the contributions they make to our lives and society. Most resorts often go to special measures to support and a highlight the distinctive quality of their staff who are essential to making a guest's stay the most relaxing and trouble-free. Lori and I always enjoy meeting new folks from the resort and hearing their accounts of living in paradise. In many cases, this internationally renowned destination draws people from all over the world to work here.
I especially enjoyed the Mirihi email newsletter they send out to guests which features a staff profile. A recent edition included intros to Naaz (Front office Agent), Raoof (Front office Agent), Jalil (Front office Agent), Sara (Boutique Hostess), Aulam (Gardener), and Mahir (Gardener). They are all assembled in the group photo together.
On the occasion of labor day, I've added yet another category tag to the site – "Maldivian Staff".