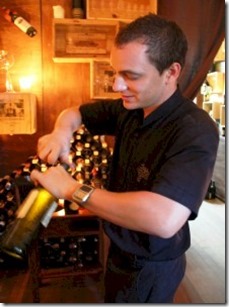 If you prefer your seaside fun in the sun to be more loud, boisterous and frolicsome, then Brazil's Carvinale starting today offers the energetic antonym to Maldivian idyll. Especially with World Cup Rio just weeks away and the Summer Games in Rio next on the Olympiad calendar, all things Brazilian will have a bit more cachet and buzz these days.
For a taste of effervescent Brazil in the tranquillity of the Maldives, Constance Halaveli's sommelier Cedric Jacob (see above) offers a distinctive collection of Amazonian varietals which he shared with us during our trip…
"The wine makers that I mention is Lidio Carraro. A pretty new winery because they open in 1998 and a pure family business that we could say 'Boutique' winery. What I particularly enjoyed while tasting those wines was the fruit character and the purity of the wine. I love wine that express themselves naturally without adding any 'make-up', these kind of wines that you can literally bite in the fruit while drinking it. Among the one I tasted, here was my favorite:
Lidio Carraro Davidas Chardonnay;
Lidio Carraro Davidas Merlot / Cabernet Sauvignon;
Lidio Carraro Agnus Merlot;
Lidio Carraro Elos Touriga Nacional / Tannat
It is actually funny but since we were talking about all the things that are going to happen in Brazil, especially the World Cup, I just rode that Lidio Carraro became the official sponsor for this Event in 2014. "
Obrigado!