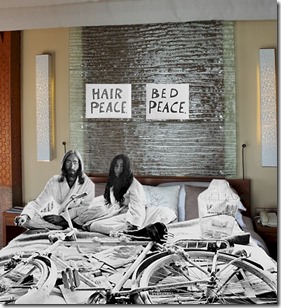 Bed piece today. 45 years ago today John Lennon and Yoko One turned their honeymoon into a piece of performance art. Embracing the paparazzi instead of shunning them, they exploited the celebration of love for a performance art piece with a message of love called a "Bed-In" (take off of the popular sixties protest of a "sit-in").
With the Maldives as the world center for honeymooners and celebrities, I'm sure that a resort here would have been an appealing venue for them in the modern age. And the resort they might have chosen could have been Baros. Know for its romance, its villa beds are works of art in their own right.
Distinctive vienetta canopy, lighted glass décor behind the head board. And of course the hide-away TV.
Bed Peace!