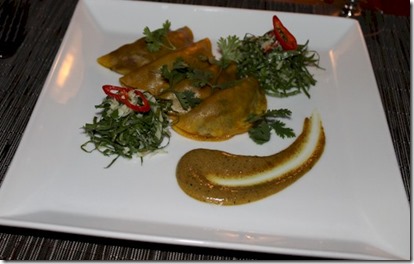 Happy Thanksgiving! A time for friends and "homecoming". For us, Kurumba is almost like our Maldivian home. We have been there the most times and GM Jason and his wife Victoria (see below) have become lovely friends.
And like most American celebrations, today's traditional turkey day is a time for eating. A feast of native delicacies. And Kurumba is certainly the standout out there with their cornucopian array of Maldivian gourmet dishes….
Indian Ocean Island Colada with screw pine, cinnamon and other spices of the area (see below)

Maldivian Rolls (see above)

Screw Pine Alaska Bomb (see bottom)

Maldivian salad (cabbage like vegetable)
Screw pine is literally part of the Maldives landscape, but it can also be used for food. Being a tree, it needs to be peeled and then boiled for 3 hours. Kurumba chefs use the pulp for the bombe and the juice used for cocktail.
Pilgrims in Paradise!