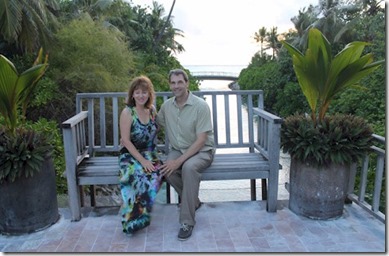 Bridges are often icons of the places they join together. The Golden Gate. The Brooklyn Bridge. Today is the anniversary of the Budapest Bridge which has a personal connection to me as its miniature cousin graces the banks of the Thames in my hometown of Marlow.
Most cities are situated on some body of water, a river or a harbour, due to a heritage of waterway commerce. And yet with all of the water surrounding the Maldives, I had never come across a bridge until One and Only Reethi Rah. They actually have two. You can see the second one in the distance in the photo above. It is a charming Kodak moment spot with distinctive vistas in both directions.
Bridges also have their own romance about them. Pont des Arts in Paris started the now worldwide trend of "Locks of Love" where lovers attach locks and throw the key into the river. The Khaju Bridge in Isfahan, Iran is a famous as a lovers tryst as it is elegantly captivating.
Reethi is sort of a Rialto Bridge for Venice of the tropics.