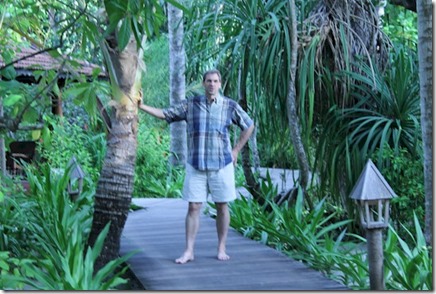 Sometimes the "no shoes" ethos isn't all a walk in the park. It is meant to embody the relaxed and casual atmosphere of the Maldives combined with its pervading sensual nature right down to the powdery soft sand across the island. This element is so prominent that during this last tour, I started collecting data for a "Walkway Rating" by resort (stay tuned). But, when I got to Gangehi, their walkways defied Maldivian categorisation. They are unlike anything else you will tread on in the Maldives. Instead of sandy, hardened or paved walkways, Gangehi features wooden walkways snaking through the island interior.
When I first saw these, I was quite intrigued. I wondered if they would be a real detraction, but over the stay I grew to appreciate them more and more. For starters, they are a 'natural' solution to folks who need hard walkways. The sandy by-ways seem romantic, but for people who have difficulty getting around – wheelchair users, otherwise unsteady individuals, and ladies who want to enjoy their high heeled fashion on their holiday – they are actually quite an inconvenience. Also, some people have sensitive feet and the aboriginal avenues can be a bit uncomfortable at times if there are stray stones and coral pieces that you can step on.
Some islands have paved paths, but somehow that often seems to take away from the natural feel. Gangehi's wooden paths preserve a very natural aesthetic. They even impart a bit of stylistic distinction to the place. Because they are slightly elevated, it almost seemed as if I was traversing something out of Swiss Family Robinson's lush tropical settlement.
Of course, if you hanker for the sand between your toes, you can always circumambulate the island beaches (quite easily as Gangehi is so tiny).