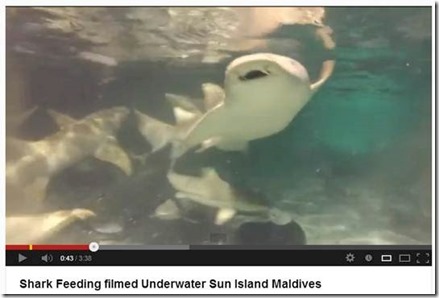 To feed or not to feed. That is the question.
Perhaps one of the many questions that might get addressed in this week's infamous Discovery Channel "Shark Week".
The feeding controversy rages across the online travel forums. The opponents tend to start from the 'take only pictures, leave only footprints' ethos of minimising interference in nature which is certainly a valid and sensible principle. To compound the protests are the quite serious health damage that can accrue to many fish when fed a number of human foods (most commonly breads). But there are also behavioural and other impacts to fish feeding practices. Even relatively safe foods fed from hands can make fish 'aggressive' to humans as they get thinking that any human will have some food to offer them.
Still, fish feeding remains an entertainment staple at many resorts. The most innocuous practice is to scoop out the large quantity of fish scraps that accrue from so many seafood dishes in the resort kitchens. These scraps are exactly the diet that the scavenging fish like sharks and rays eat anyway. Still, the dogmatic environmentalists will protest even these practices.
I have been torn on fish-scrap feeding. For the past year, I have contacted a number of marine biologists and posted on a number of forums to try to identify specific harmful impacts to fish populations of fish-scrap feeding. To date I have been unsuccessful in finding any bona fide harms to fish-scrap feeding.
I'm sure it is not ideal. It is certainly not all 'natural'. So why would I even consider supporting the practice.
It might be that there is a relatively small downside impact to the practice, but a rather substantial upside. That benefit would be the classic 'zoo argument'. The notion that having zoos or feedings or other contrived (but controlled for animal welfare) practices that bring humans and animals closer together is good for both humans and the animals. In our manufactured, processed and urbanised world, one of the biggest threats to nature is mankind's distance from it. When people don't have strong and deep connections to these creatures, as they are just tasty filets on their plate, then they lose the political will to raise funds for their preservation and pass constraining laws for their protection. By offering guests these feeding events, it gives them an opportunity to witness up close these animals and their inspiring qualities.
The more interactions we can foster between humans and nature, the most admiration and connection we can foster to them, I am convinced the more the world will muster up the resources, understanding and interest in investing in their welfare.
I have seen many of these events at resorts and Sun Island was by far the most mesmerizing. You have the regulars like the rays and the jacks, but the star attraction at Sun were the sharks. Every island has an array of reef sharks. While some get to be quite sizable, few are over a metre in length and most are pygmy-like pups not much more than a foot long. Sun had these, some bigger than I have seen in the lagoon waters, but they also were visited by a collection of nurse sharks. These fellows are quite sizeable and have the peculiar behaviour of 'sitting' on the ocean floor. Before the feeding started, Lori and I had arrived early and noticed these and we couldn't tell if they were really sharks or just shark-shaped rocks on the ocean floor.
The Sun Island shark feeding does respect a number of parameters which do minimise any deleterious effects. First, dietarily, they only feed with fish scraps which would be consistent with the shark's natural diet. Second, they are feeding from a pier and not from hand (as some sting ray feeding is done and as now stopped diving excursions have done in the past).
Whatever ever your perspective on this healthy debate, enjoy the frights and insights of Shark Week so that everyone can respect and support these wonderful creatures.