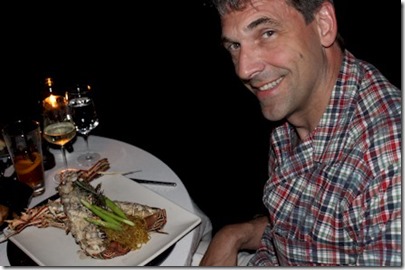 Happy (or should I say "Yummy") Lobster Day!
Lobster dinners are becoming as much table stakes for the ever more luxurious Maldives as hot stone massages and artistic water features.
So much so that I have added a "Lobster" tag to the blog. And I have not been shy to sample the many crustacean cuisines as I am a serious aficionado. I grew up in New England with many summer trips to Maine. Maine lobster is still the worldwide gold standard for sweetness and tenderness so I have been spoiled by the best. Lobster bisque is my favourite starter by far and I will always order it out of principle if it is on the menu (I prefer the lighter cognac-cut style to the heavy creamy version).
We will also venture to some of the more renowned lobster establishments when in the vicinity. The high bar there is definitely the House of Elliott in Ghent, Belgium (a stunning creation of lobster cooked 6 ways in an artistically quirky setting by the Lys River). Mirihi provides a lobster experience that rivals it. Also waterside (or 'water-over') at its Murka restaurant, coincidentally both Muraka and House of Elliott had two of our most memorable bread accompaniments (House of Elliot cooked their fresh loaves in little flower pots). Muraka's lobster in champagne and truffle sauce was prepared to near perfection.
The lobster distinction goes deep at Mirihi. From over water restaurant to underwater dive/snorkel sight. Mihiri features its own "Lobster Cave" widely regarded as one of the most striking places to see lobsters around. As Spammie reviews in her TripAdvisor Maldives Forum post…
"Mirihi corner is a named dive spot…yes it is at the far end of the reef , marked by an awesome wall and a lobster cave in just under 30 meters. as a (very) experienced diver, you can dive inside .. in pairs or max 3 people at a time and see lots of lobsters hanging out on shelf formations inside. very very amazing. the tricky part is to make it through a tight little tunnel single file without ruining visibility by finning up sediment.. it takes a little nerve and very calm fins. not for newbies or the faint of heart but worth it."