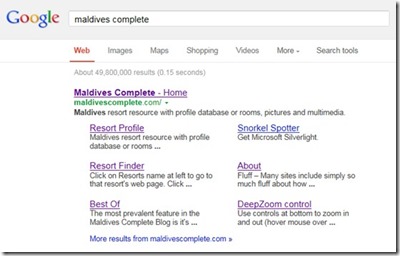 I need help. Despite the steadily increasing traffic, the regular fan mail, the positive words from Facebook and TripAdvisor forums, and the resort support, Maldives Complete still does not rank highly in search engine result pages (SERPs). The site has a very credible Page Ranking of '3', more than many pages that seem to come higher in the results.
The issue is that lots of people investigating the Maldives as a destination for the first time often won't find Maldives Complete unless someone in-the-know tips them off to it. That means that those prospective visitors get lured to crappy commercial sites that just provide a little bit of generic tantalising information and then bombard them with holiday offers.
One of the things that first frustrated me driving me to develop Maldives Complete was the vacuous and shallow commercial websites that always barged to the top of the search engine results when I searched for "Maldives resorts".  Because Maldives holidays are so expensive, there's a lot of incentive for operators and website cowboys to produce mediocre websites with a few stock images and then put lots of money into Search Engine Optimisation (SEO) that will thrust them to the top of the rankings.  Everywhere I go in the Maldives travel industry, most experts and aficionados now know of Maldives Complete and share generous and kind praise the work it is doing. Still it's a cut-throat world when lots of money is involved. Even the well-done sites that I promote, link to for their quality and get praise from in private, don't put links to me I guess out of fear that I will draw lucrative traffic away from them.
The praise for Maldives Complete is backed up by the stats.  Its web traffic has grown steadily since its launch with a particular surge in recent months (eg.  20% traffic growth just last month).  Since the outset, an average of over 40% of the daily visitors were 'Return Visitors' meaning that people like what they saw and have come back for more. 
But the most telling and also curious statistic is the referrals from search engines.  For most websites, this is one of the most common sources of people finding the site.  But with Maldives Complete, only 27% comes from search engines.  The rest come from (a) 'No Referrer' meaning they typed the name straight into the browser, or (b) email sites (eg. mail.yahoo.com) meaning someone emailed them the link).  Despite a very respectable Google Page Rank of '3', MaldivesComplete doesn't show up in the top 1000 results of a search on 'Maldives resorts'.  By contrast, Adrian Neville's authoritative site SevenHolidays has a Page Rank of '2' but still shows up at position 26.
One of the key drivers to search engine position is links backlinks.  Because I don't make any money out of this site, I haven't had any resources to go out with PR campaigns and SEO initiatives to buy or market such 'link juice' (and the SEO gurus call it).  Since so much of the popularity of MaldivesComplete seems to be driven by word of mouth and regular readers, I thought I would send out an appeal for links.  If you have an appropriate site (eg.  something to do with travel or the Maldives) and you think that MaldivesComplete is useful, then any link you can put on the site to MaldivesComplete will help the search engine bots to value it as highly many of you seem to.  Thanks for any support you can provide.  Hopefully it will help others to find and benefit from this tool to find just the right resort for them.