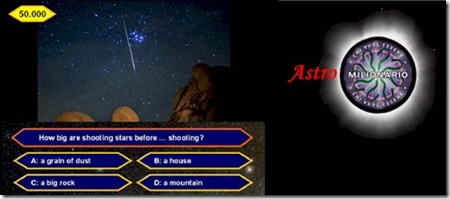 Most of the special events in the Maldives take one down into the water (like Six Sense Laamu's Water Wo/Men event). But equally as sparkling as the turquoise lagoons and shimmering reefs is the firmament of stars above. Usually at least once during our Maldives visits, we lie down on the warm sand after dinner to gaze at the night sky packed with stars with a flourish of Milky Way across the middle.
Resorts are catching on to this night time showpiece with increasing numbers offering telescopes, beach star gazing sessions, eclipses, observatories and special events. In fact, today's post has prompted me to add a new category tag – 'Astronomy'.
Gangehi is going a step further with an entire 'Astronomy Week' devoted to celestial celebration. The line-up includes…
Stargazing

"Astro-millionaire" game

Brief after-dinner astronomy talks

Let's take a shoot to the moon

Astronomy walks
As it happens, tomorrow we enter the 'Lagu' period of the 'Seed Moon' which is Celtic for 'Flowing Water' (!). The Runic Calendar of Nordic traditions, which is governed by half months rather than full months, divides this moon of the year by Man (Human) from April 14th through April 28th, and Lagu from April 29th through May 13th.
If you are interested in marking other big astronomical events in your diary, then check out this handy reference chart for 2013 of "13 Must See Star Gazing Events in 2013".
Star attraction!