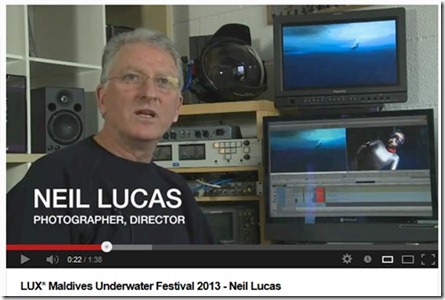 Did you miss out on an Oscar again this year? Want to refine your filming technique with some world class mentoring to improve your chances with the Academy next year? Then, sign up for LUX* Maldives' Underwater Festival 15-21 April 2013.
"An intense ensemble of water activities stretched over one week of lighter learning for keen divers, photography fanatics and water enthusiastic or just simply curious guests in search of a holiday with a difference. With a strong focus on underwater photography, the festival's attendees have the opportunity to join training sessions with the experts throughout the week!"
Now we're talking something a bit closer to my professional expertise – filming diving. Though my filming is more above water than under. My company, Piero, brought to the London 2012 Olympics the now infamous 'Splashometer' to the BBC and NBC coverage of the 'Diving' competition. Though I have done a bit of more conventional diving film here. Look out Spielberg!